Mass collaboration examples like Wikipedia, open source software and the Human Genome Project have forced us to redefine our definition of 'impossible'. They have inspired people everywhere to think: "Why couldn't we do that in our field?"
Trying to collaborate on a idea or project poses many challenges, even when working with only a few people. How do you deal with these obstacles when you want to invite ten, a hundred, or a thousand people to participate?
Over a hundred projects and six years, Collabforge has helped organisations understand how to navigate the challenges and opportunities of large-scale collaboration. We are now expanding our mission to bring scalable collaboration capability to the broader community. We believe this is the most important contribution that we can make to a better present and future world.
Our series of interactive Level Up workshops are designed to provide an accessible starting point for collaborators from all different backgrounds to get moving on their own unique mass collaboration opportunity.
---
Upcoming events
Melbourne Knowledge Week workshop – Collaborative Knowledge Creation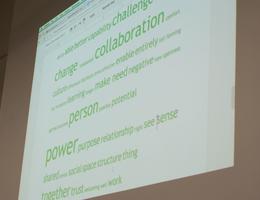 Explore the potential of collaborative technologies to co-create knowledge real-time in a digitally-enhanced interactive workshop. Join us to learn about collaboration as a tool to create new knowledge across social, industry and disciplinary boundaries – now and in the future.
One of the benefits of collaboration is that it allows us to bring diverse knowledge to a particular challenge or opportunity. But how do we work together to apply knowledge once it's been collected? How do we ensure the flow of knowledge across social, industry, and disciplinary boundaries? How do we work together to create new knowledge, to be used now and in the future?
Collabforge will explore these questions with 20-60 participants through a digitally-enhanced interactive workshop that demonstrates knowledge transfer and knowledge cocreation in real time. The session will be introduced and framed with a brief presentation of case studies from some of Collabforge's many knowledge-focused collaboration projects. Participants will leave the session inspired by a range of new insights into the why, how and what of knowledge and collaboration.
Book here: https://www.eventbrite.com.au/e/collaborative-knowledge-creation-tickets-12505651741
Level Up Workshops
Calling movement-makers, cat-herders, and anyone trying to use the power of the crowd to co-create an outcome…
… are you struggling to level-up your project, blocked by internal resistance or simply not sure where to start?
Join us for a half-day workshop for a practical look at how to use the principles of collaboration to scale an idea or project from 1 to 1,000,000. Using your idea or project, you'll work with others to learn how to track and communicate your progress, identify potential roadblocks and pitfalls, and most importantly – take your initiative or idea to the next level.
Each session is 3 hours, with limited spaces. November dates TBC. Get in touch with the team to register your interest and find out first when session times are announced.
Hub Melbourne partnership
Collabforge is partnering up with Hub Melbourne to host several several events over 2014. The certified B-Corporation is a perfect fit for Collabforge's events, with their passion being, "innovation through collaboration". Find out more about Hub Melbourne.
---
Previous Collabforge events
Over the past few years, we have run dozens of workshops and other facilitated group events. These include Leap Workshops for Project Leap, the Low Carbon Living CRC's Annual Participant Forum, 'tough talks', lectures and more.
Selected testimonials from attendees below.
What we achieved in three hours is something that would have taken us at least six months to do whilst in the office trying to do our day-to-day stuff. I like the fact that everyone was able to come in here and not be judged, to come in with their individual problems and to have people help them resolve those issues.

Excellent organisation, as always!! Great mix of people and lots of great ideas were shared.

Your audience was full of well-informed and insightful individuals and your facilitation was exceptional.